Original Font of German Car Number Plates
Info by FastDriver | Last update on 2022-03-15 | Created on 2016-06-13
I made an interesting discovery in the net today: On the website autokennzeichen.info you can download the original font used for the German European numberplates for cars. The Euro Plate font is available for download as True Type Font (TTF).
With this, you can install the original font that is prescribed for each license plate by the German Road Traffic Act (Straßenverkehrsordnung, StVO) to your Windows, Linux or macOS computer in order to use it in arbitrary applications.
Naturally, the font comes without lowercase letters, specific punctuation or special characters - the font only contains the characters that can appear on a serial number plate. The following image from the page autokennzeichen.info shows the contained characters: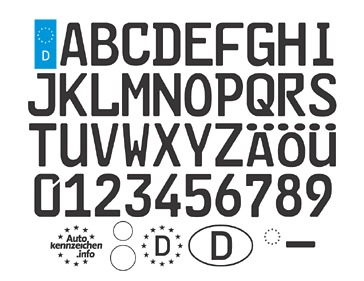 Additionally, you can also download the font for American license plates from this website.
About the Author
The author has not added a profile short description yet.
Show Profile
Related Topics
Important Note
Please note: The contributions published on askingbox.com are contributions of users and should not substitute professional advice. They are not verified by independents and do not necessarily reflect the opinion of askingbox.com. Learn more.
Participate
Ask your own question or write your own article on askingbox.com. That's how it's done.